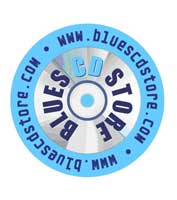 Blues CD's available at
http://www.bluescdstore.com
Blues CD Store.com opened on 1st June. The website aims to give blues fans a wide choice of blues CDs, ranging from bands and artists that are leading the UK blues scene to local blues bands. From the original US Godfathers of the blues, to those currently making their mark in the US and Europe. The site will grow over the coming months and whether you like acoustic blues, traditional blues or blues/rock you'll find all styles of blues on this site.
Blues CD Store gives an opportunity to UK blues bands and artists to sell and promote their CDs, DVDs and T Shirts, not only to blues fans in the UK but across the world. Often distribution is a concern for UK blues bands and artists, and it is hoped Blues CD Store will help address this, giving bands and artists a new route to potential buyers. Blues CD Store recognises the lack of UK blues bands and artists on CD websites and in record shops. Even though UK blues bands and artists are the heart of the UK blues scene, keeping alive blues and blues/rock music in the UK.
Blues CD Store promotes and supports the development of blues and blues/rock music, bands and artists in the UK.
To view and buy CDs or to be represented on the site visit; www.bluescdstore.com
Buzz - Not Dead Yet
If you have seen Buzz live then you will know the material on this album well. Opening track 'Stuck In The Traffic' sets the standard for the album with its funk rock groove. There is an easing up of the tempo with 'Talk Of The Town' and 'Sometimes' but they are only a slight lifting of the tempo before it's back to business with 'This Town'. The title track 'Not Dead Yet' is great live and it is captured well here, really giving the band a chance to turn up the energy before the final number 'You're The One' sees them slow things down. This is an excellent album, well produced and comes very close to catching the live sound of the band, if you have seen them then you should have a copy already, if not get one. If you like great music you won't be disappointed.
---
Messiah - On Hallowed Ground
Opening the album is the title track with Rule Britannia as the intro, and it works well, before it's down to business with this heavy mid paced number. Second track The Falconer picks up the tempo with Robs voice working well, with a tempo that early Metallica would have been proud of. The bands epic number is Messiah, just over 10 minutes long, which is very good and could be a great live number in a big venue. Vision varies the pace with piano accompanying Robs heartfelt vocals before the guitar comes in and is one of the best tracks on the album. It's when you get to "You Raise Me Up" that you look at the cd player a bit quizzically, as this is the albums only cover, and I'm not sure if it was the best choice, it's not bad, but I'm sure they could have come up with a better number of their own. The final number is "Beyond a New Life", which is another epic at 9 minutes long, and is a good closer as it leaves you wanting more. This is a very good album, and when you consider it was self produced it seems even better. The only thing I would say is there is a bit too much reverb on the vocals at times and they could also do with being turned up a bit at times. However this is a well written and played album with Robs voice sounding much older than he is, I just hope they have the success with it they deserve, roll on the next album, if this is anything to go by it should be a cracker.
---
So Long Angel - Falling
This is an album of original material and if you saw the band when they played here you'll know what to expect. With a jazzy blues sound this is an excellent album and it has a late night relaxed feel to it. Starting with 'Cell Phone Blues', which is one of the faster tracks on the album, the tempo then drops for 'Rhythm And Blues' which has a more jazz-blues style to it. In the main this is a relaxed jazz-blues album with just a few tracks picking up the tempo. The production is very good with Frans vocals coming across really well, and all instruments are clear. This album is recommended, especially if you saw the band here in february and enjoyed them, with no fillers on it anywhere.
---
Storm Warning - Breaking Out
This is the first real album from this popular blues band and what a great album it is. The first thing you notice is the production which to me is spot on, a very warm sound with everything at the right level, not overly clean as some albums can be. The album consists of nine tracks of which seven are originals with the two covers being 'Dangerous Mood' and 'Long Grey Mare'. The first number, 'Bullets', was inspired by a trip when Son was stopped by security when travelling by Eurostar, they thought his harmonicas were bullets, and is a mid paced blues shuffle with some nice keyboards from Ian. 'The Woman? Or The Blues?' is a slightly more powerful number with Bob having a nice workout on guitar. The two covers are together with 'Dangerous Mood' being a slow reflective blues number before they play a funked up version of 'Long Grey Mare' which is different and works well. 'Big Man' is a slow number with some nice harmonica from Son before the tempo picks up for 'Ballad Of 64'. 'Upton Strut' is a mid paced instrumental which fits in well with some excellent playing from the band before the final two numbers, 'The Blues Are Back' a number celebrating the return of the blues with 'Whisky Blues', a slow reflective number that sounds like it should only be sung late at night, sat at the bar with a whisky in the hand, and ends with a final guitar solo that gradually builds in power. Now the only complaint about the album, it's too short, it should have been a double album, as when it ends you want some more, so you just have to play it all over again! This is a very good album, if you've seen and enjoyed Storm Warning live then you'll really enjoy the album, well played, great production and good material. So when's the next one out lads?
---
Terry Wisbey's Texas Thunder - Lonesome Highway
This is an album of mainly originals, there are only two covers, of blues material. The standard of the material is very good and is reminiscent of Texas blues mixed with 50's Chicago blues and works very well. The opening track 'Find A New Life' as with several other tracks has a Stevie Ray Vaughan feel to it, which is certainly ok with me. The first cover is 'I Make Love' by Willie Dixon and is done well, the second cover is 'Crosscut Saw' which is something of a blues standard now having been covered by so many people and this version also works well. The title track is a slower instrumental before one of the best numbers, 'Ain't No Doubt About It' a tribute to Stevie Ray Vaughan which captures the sound and style of SRV. The next track, 'Lost, Blue and Lowdown' slows things down before 'Mean Mean Woman' picks the tempo up again. 'Texas Boogie' is another instrumental with some boogie woogie piano to give it some depth before closing track 'Goin Home Blues', another instrumental which sounds like it should be the last track played in a blues club at 3 in the morning when the band just wants to go home, with a lazy tempo to it that says no more whiskey, I just wanna go to bed.
The production is good, if a little clean, but the album is well worth getting.